Ice Dam Removal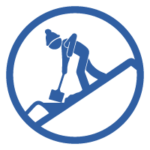 Sundance Window Cleaning provides exceptional, high-quality, rooftop snow removal, de-icing and ice dam removal services to ensure your home and property are safe from accidents due to ice build-up and excess snowfall. Unlike many ice dam removal companies, we don't use sub contractors. Our crew is well trained and ready to help you with any snow and ice problems you have this winter. You can count on us. A job well done is essential to our success. We follow up and maintain close contact with our customers.
We Do More than Windows!
Ice Dams and Excessive Snow are Harmful: Park City and the Wasatch Back are known for some heavy-duty ice dams that form during winter months. When an ice dam gets big enough, melted water backs up behind it and seeps underneath the shingles. Eventually, it will drip into the insulation and down into the ceilings and exterior walls beneath the eave, ruining sheetrock and paint. If the ice dam breaks free, it can pull shingles and gutters off with it, and it will damage anything it falls on: shrubs, windowsills, cars, pets, and people. If the roof sheathing stays wet, it can form mildew and start to rot.
This is the most important part of our service. We use only the best and effective glass cleaners that are safe and produce clean and streak-free surfaces. No matter how stubborn grime or stuck-on materials may be, we can remove them without causing scratches or marks.
Just take a look at what our happy customers are saying on
Facebook
and get your
quick online estimate
today and discover the "Sundance Difference."
Call Us Today for a Free Estimate