Rooftop Snow Removal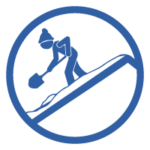 Rooftop snow removal is essential when heavy snow can accumulate adding weight that can damage your roof's structural integrity, possibly resulting in roof damage or even collapse. And, ice dams easily form and require careful attention during removal. Don't wait for winter's repetitive snows and thawing cycles to cause leaks or damage to your property.
It Pays to Be Proactive!
Leave it to the Experts: Sundance Window Cleaning's trained, skilled experts can quickly and safely remove built up rooftop snow accumulation as well as ice dams without damage or voiding any warranty. We only use safe snow removal tools such as shovels and roof rakes that are gentle on your roof. Your business is valued and we promise to care about your roof just as much as you do! Contact us today and keep roof safe and secure! If your home, business, or complex is in need of rooftop snow and ice dam removal services, please give us a call for detailed information and to schedule a visit.
Protect and Prevent: Snow and ice dam removal is both dangerous and delicate work that should always be conducted by roofing professionals. We are familiar with high angle safety systems and have developed the comfort level necessary to achieve an efficient rate of snow and ice removal in an extremely hazardous working environment. Roofing professionals also fully understand the nature of the roofing materials beneath the snow and ice and are conscientious about maintaining the integrity of the roof system. We offer these services by seasonal contract, or at a simple hourly rate per appointment.
Just take a look at what our happy customers are saying on
Facebook
and get your
quick online estimate
today and discover the "Sundance Difference."
Call Us Today for a Free Estimate